What are they doing at IFA during the lock-down?
Three of the astronomers are e.g. taking a star-shower on Anholt!
When did you last view the Milky Way?
The starry sky above us should be experienced in genuine nightly darkness, and this is over time quite difficult to come by in large parts of the Western World. Fortunately light pollution has obtained a growing awareness lately.
The island of Anholt is undisputedly among the darkest places in Denmark, and the local organisation Dark Sky Anhold is working with dedication at obtaining an official Dark Sky certificate for the benefit of residents and tourists on the island and all others who appreciate the darkness and the stars.
The astronomers at Aarhus University are wholeheartedly supporting these efforts, and 11.-12. August Hans Kjeldsen, Ole J. Knudsen and Frank Grundahl participated in the event "Starshower on Anholt" giving lectures and guided tours of the starry sky in the desert-like area of Anholt appropriately named "Ørkenen". The occasion was the Perseid meteor shower.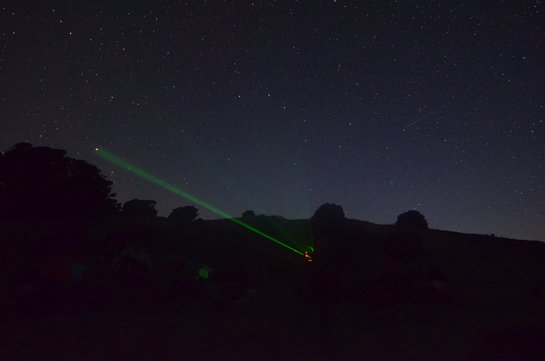 A pointing laser is a useful tool when doing outreach under the stars! Ole J. Knudsen is here pointing at the star Arcturus in the Summer constellation "The Icecream Cone" for the participants - not seeing the fine meteor behind him! Photo: Frank Grundahl.
The stars and the Milky Way are a free for all experience - just go outside on a cloud free night before the Moon rises, and find a dark spot without street lamps or other direct light sources nearby. August and September are well suited for stargazing. Remember to help protect the dark night sky enabling future generations the luxury of seeing the Milky Way with their own eyes! You can read more about the Dark Sky Anholt initiative at the Facebook link https://lnkd.in/eEnxmXX